Joppa Elementary Implements New Reading Curriculum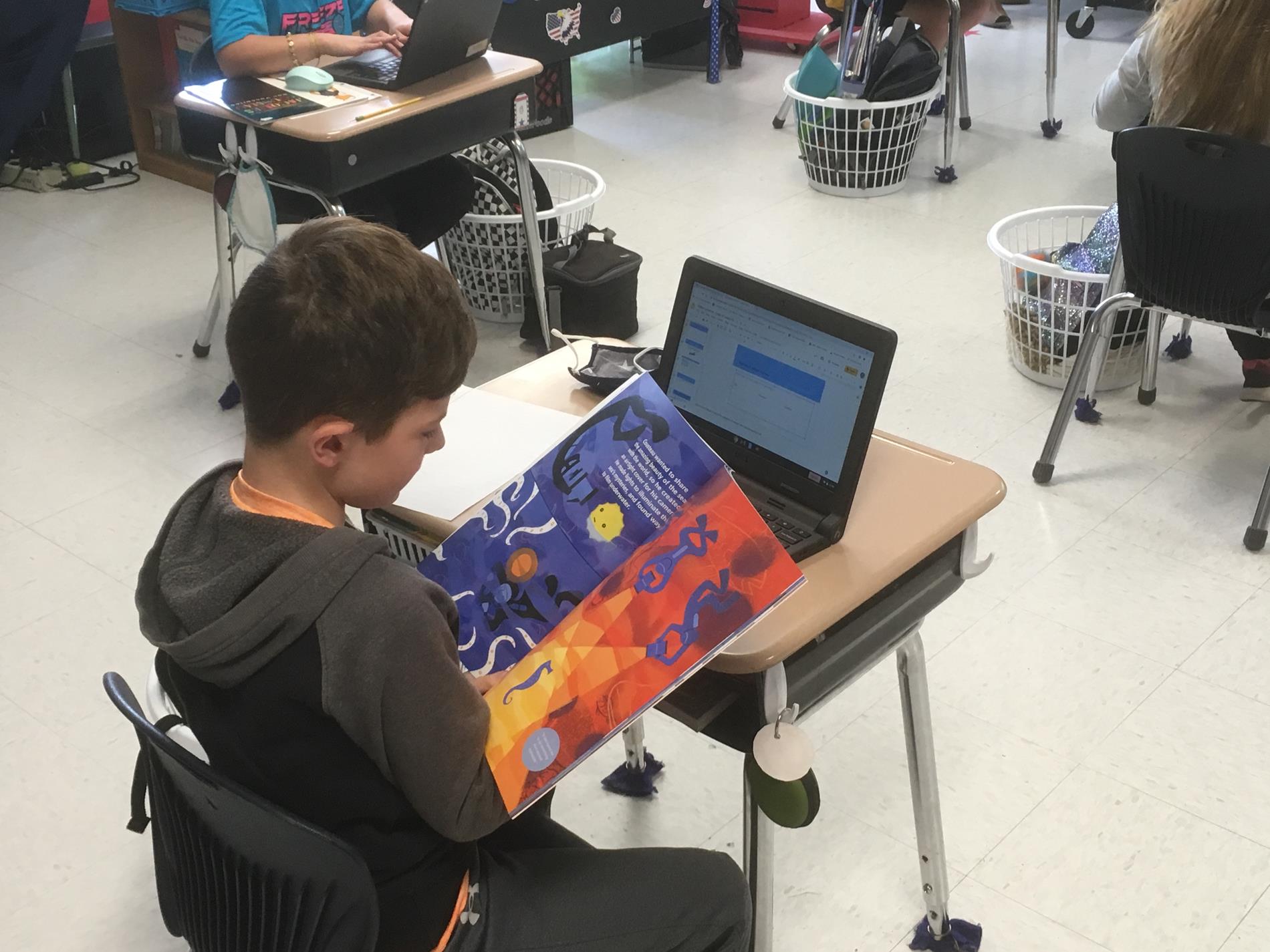 ---
JES Implements New Reading Curriculum

Teacher Shelbi Cameron begins her reading and language arts class by having her fourth-grade students watch a small clip of an animated video about the circulatory system. In the video, a cartoonish red blood cell tells students he is "like a little delivery truck in your body." Next, Mrs. Shelbi discusses what similes and metaphors are and then facilitates a classroom discussion on how figurative language was used in the video. She then has students open their recently read book, The Circulatory Story, to analyze the author's use of figurative language, humor, and illustrations. Mrs. Shelbi tells students to, "consider how similes, metaphors, and illustrations in the book help you comprehend the text and better understand the circulatory system." All this is to assist students in answering the lesson's focus question, "What is a great heart, literally?". In future lessons, students will explore what it also means to have a "great heart," figuratively. This is Grainger County Schools' new Wit & Wisdom curriculum for grades 3-8. It builds knowledge of key topics in history, science, and literature through the study of excellent texts, and Joppa educators and students are both learning a lot from it.
Teachers began planning for the new ELA curriculum in July. The added component of the COVID-19 pandemic and students learning in-person as well as on-line made learning a new curriculum even more daunting. "The challenging thing with the new curriculum is that it creates many opportunities for students to work together, but with COVID-19 we are struggling to utilize these great opportunities", says third grade teacher Jennifer Stout. However, teachers have found ways to allow students to continue to work together while also social distancing. Fifth grade teacher Jennifer Gowan uses a computer app that lets students collaborate by typing their thoughts and replying to each other by virtual "sticky notes". Sixth grade teacher Sara Hodge has her students reflect on the day's lesson and briefly share one thing they learned with a fellow student while wearing their masks being mindful of their distancing.
The variety of interesting books that students read has motivated students to engage more with the text. One book was Shark Attack for third graders. "The excitement for this book is contagious," says Jennifer Stout. "One student chose to read the book during breakfast, and before the bell rang, the whole class had their copy out reading. Students can't wait to read the books." Fifth grade teacher Jennifer Gowan adds that, "The new curriculum is a challenging reading and writing program that has piqued the interest of my students and enabled them to think about their community and the world around them in new and interesting ways."
Sara Hodge agrees that the texts really grab the students' attention. "As soon as students first get their books, they begin to notice and wonder things about it and make predictions. This improves their understanding of the book and keeps them involved throughout lessons." Principal Pam Roach also notes how much students are enjoying reading stories from actual books versus from a traditional textbook. "With the addition of trade books, students are more engaged in the curriculum." Mrs. Roach is very appreciative of the time and effort teachers have put into learning a new curriculum. "As always, teachers are rising to the challenge of implementing the new ELA series with a high level of rigor, even with the added COVID concerns of this school year."