Graduations to be Streamed Live
Both the Grainger High and Washburn High graduations will be streamed live on our You Tube Channel. Grainger High's graduation begins at 7 PM on Thursday, May 19, and Washburn High's graduation begins at 6:30 PM on Friday, May 20. Click
HERE
to watch live.
Summer Learning Camps Enrollment Opens
We are pleased to share that Grainger County Schools will offer summer learning camps for K-8 students this year. The Learning Camps run May 31-June 23 for four days each week. Students may ride bus to camp. To enroll please click here. Please enroll by April 29. If you have any questions, please contact the school where your child(ren) attends.

Grainger County Schools Named Best For ALL District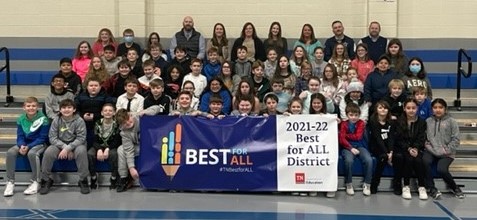 The Tennessee Department of Education announced on February 11 that Grainger County Schools has been named a Best For ALL District.
Best for All Districts have received recognition for strategic plans and decisions with our federal COVID-19 relief and stimulus funding . We are being recognized for strategically and thoughtfully prioritizing our allocated funds, meeting the department's qualifications to spend at least 50% of our ESSER 3.0 award amount on proven, research-based strategies to raise student academic achievement and participate in the TN ALL Corps tutoring grant program to provide students with high dosage, low ratio tutoring opportunities.
We are proud of this recognition, grateful for the additional support, and energized by the investments we're making in student futures and opportunities.
Board of education adopts new cdc Covid guidelines

The Grainger County Board of Education adopted the new CDC Covid guidelines at their regular January board meeting. To read the guidelines in entirety click here.

New to Grainger County Schools?
If you need to enroll a student in a Grainger County School, we now offer online enrollment. Please click

here

and choose the appropriate school(s) online enrollment form. After you have competed the form, you may contact the school(s) for additional information on completing the enrollment process. If you are unsure of what school your child will attend, please call the Grainger County Board of Education office at 865-828-3611. Online enrollment forms can also be found on the schools' website under the School Info drop down menu.
To better serve parents and to provide clear insight into student achievement, the Tennessee Department of Education has opened a TCAP Family Portal. This online resource offers detailed, personalized information about student's progress on the Spring 2021 TCAP exams. Visit https://familyreport.tnedu.gov/login to register for the Family Portal using the student's State ID. This State ID can be found in your ParentVue or StudentVue accounts under the Student Info tab or on any past printed TCAP report.
The Grainger County Board of Education recently approved a pay increase for all substitutes. Substitutes are still needed in all areas. Anyone interested in substituting MUST complete the substitute application. The application may be dropped off at the Grainger County Board of Education Central Office or emailed to Roger Blanken at rblanken@gcs123.net. Applications may also be picked up at Grainger County Board of Education Central Office weekdays from 8 AM until 4 PM.
Please click here for the Substitute Application.